Call for papers: #TogetherApart
Published: 24 April 2020
CfP for a very timely and important special issue of the MeCCSA PGN journal, Networking Knowledge, on mediatization during the COVID-19 crisis. Abstract submission deadline: 1 July 2020.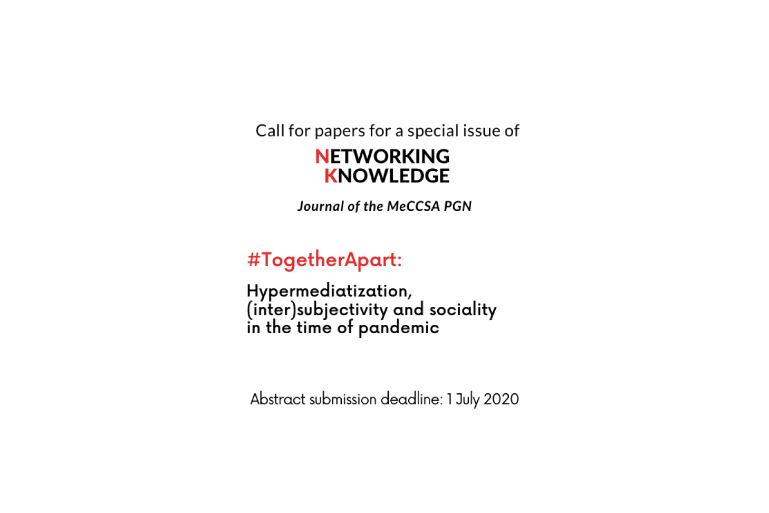 Media technologies have become deeply embedded in our lives as "ecologies of communication through which human life is sustained" (Couldry, 2020, p. 119). Nowhere does this statement ring more true than in the COVID-19 pandemic reality, an unprecedented rupture which has brought the world to a halt, changing the ways we live, work and play.
As digital technology remains the only means of staying connected, it becomes important to critically explore the current reality of 'deep mediatization' (Couldry & Hepp, 2017). Networking Knowledge invites contributions from postgraduate and early career researchers for a special issue dealing with the different manifestations of hypermediatization in society, culture, and communications from any disciplinary perspective or across disciplines.
Topics may include but are not limited to:
Mediated sociality as the new normal
Hypermediatization and its impact on daily life
Creativity in lockdown
Performative (inter)subjectivity and affect: changes in the ways we view ourselves and relate to others
Authenticity, truth and trust in mediated communications
COVID-19 media coverage: the return of the expert?
Please submit a 500-word abstract (not including references) and 100-word bio to the journal editor, Bissie Anderson: bissie.anderson@stir.ac.uk by 1 July 2020. Notifications of acceptance will be sent by 1 August, with full papers (detailed submission guidelines can be found here) to be submitted for peer review via our OJS system by 1 November 2020. We aim to publish the special issue in the spring of 2021.
Details on the Networking Knowledge website:
https://www.ojs.meccsa.org.uk/index.php/netknow/announcement/view/47
---
First published: 24 April 2020