Local heritage charity receives Heritage Lottery Funding for West End exhibition
Published: 19 July 2018
A project on Women, War and Glasgow's West End, led by a SGSAH funded researcher, has received a grant of £6,600 through the Heritage Lottery Fund.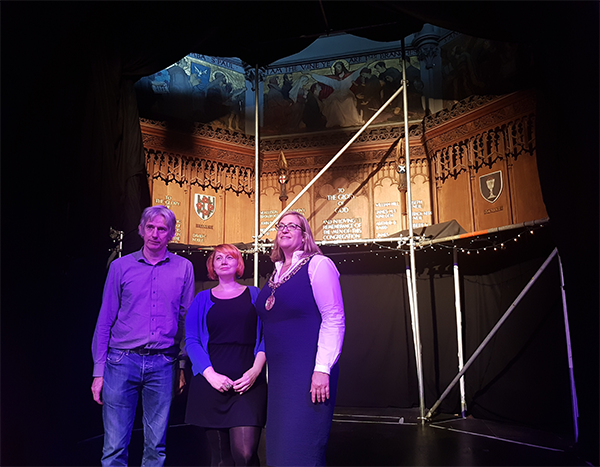 David Robertson (Director FACT) Karen Mailey-Watt (PhD Researcher), Eva Bolander (Lord Provost of Glasgow) at the launch of Women, War and the West End.
Four Acres Charitable Trust (FACT) has received a National Lottery grant of £6,600 for the project the Women, War and Glasgow's West End. Awarded through the Heritage Lottery Fund's First World War then and now programme, the project will shine a light the women were instrumental during and after WW1 in Glasgow's West End.
The project will be run in partnership with Friends of Glasgow West and will be headed by Karen Mailley-Watt, a PhD student at The University of Glasgow and the Glasgow School of Art who is supported by the Scottish Graduate School for Arts and Humanities and the Scottish Funding Council.
Through various workshops the project will bring together a cross-section of the West End, to allow people to actively learn about the areas rich heritage including the cultural, decorative and social aspects. The workshops will also allow participants to see history in a new, exciting and engaging way by highlighting the importance of family history through various means including photographs, handling sessions and group discussion.
The project will also include an exhibition at Hillhead Library in November 2018 which will draw attention to an under-researched area of women and war memorials. It will highlight the work which women undertook in designing such commemorative pieces such as the WW1 triptych frieze designed and executed by Glasgow School of Art alumni Evelyn Beale (1870-1944) is situated in Webster's Theatre, and cared for by FACT. The exhibition will travel to various points in the city including Glasgow City Heritage Trust and The West End Festival throughout 2019.
David Robertson, Director of FACT said 'We were delighted to receive this award from the Heritage Lottery Fund which extends our work to research and remember the work and sacrifices made by the generation who lived through the Great War of 1914-18'.
Lucy Casot, Head of HLF Scotland, said "The impact of the First World War was far reaching, touching every corner of the UK. With our small grants programme, we are enabling even more communities like those involved in Women, War and Glasgow's West End to explore the continuing legacy of this conflict and help local young people in particular to broaden their understanding of how it has shaped our modern world."
We also caught up with Karen at the press launch, which was attended by Glasgow's Lord Provost, to talk about the project.
---
First published: 19 July 2018