Collaborative Doctoral Awards
**The online application system is now closed**
Late applications will only be considered where there is evidenced breakdown in SGSAH's operational systems and where such systematic failures have made submission by the deadline impossible. Please note that we will not accept late applications where there has been systematic failure at the applicant's end (e.g failure of internet connection). For this reason, we strongly advise applicants to complete the application process at least 48 hours in advance of the deadline.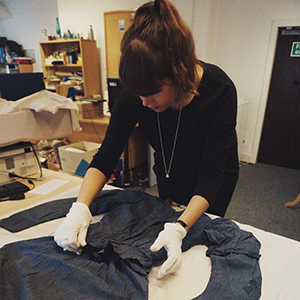 Image: Former SGSAH-funded student Lucie Whitmore at The Museum of Edinburgh Costume Gallery
SGSAH Collaborative Doctoral Awards provide AHRC funding for PhD-level research projects which are developed in partnership between Higher Education Institutions and non-HEI organisations or businesses. The funding is awarded to the HEI and the student receives a stipend and fees.
The awards are intended to encourage and develop collaboration and partnerships providing opportunities for doctoral students to gain first-hand experience of work outside the university environment and enhance the employment-related skills and training a research student gains during the course of their award.
The projects also encourage and establish links that can have long-term benefits for both collaborating partners, providing access to resources and materials, knowledge and expertise that may not otherwise have been available and also provide social, cultural and economic benefits to wider society.
Applications to the SGSAH CDA competition should be submitted to SGSAH by the lead academic supervisor between 1-14 February 2022, irrespective of whether Route A or B (see below) has been followed.
Click on the links below to download the CDA guidance documents and application template in Word or PDF format:
SGSAH CDA Application Guidance 2022 (Word Document, 2.7MB)
SGSAH CDA Application Guidance 2022 (PDF, 752KB)
SGSAH AHRC CDA Application Form Template 2022/23 (Word Document, 36KB)
SGSAH AHRC CDA Application Form Template 2022/23 (PDF, 259KB)
CDA Nominated Candidate Form 2022 (Word Document, 29KB)
CDA Nominated Candidate Form 2022 (PDF, 150KB)
Non-academic organisations
Information for non-academic organisations interested in learning more about CDAs:
Process
Preparation and submission of application
There are two possible routes through the CDA process though these marge at the application submission stage.
Route A - Partner Led
Industry partners prepare a brief proposal by 7 Sept 2021.
The proposal is circulated by SGSAH to HEIs for their consideration.
HEIs respond directly to the partner organisation by 4 Oct 2021.
Partners review responses and select HEI/supervisory team to work with by 29 Oct 2021.
Full CDA application submitted to SGSAH by lead academic supervisor between 1-14 February 2022.
Route B - HEI Led
HEIs supervisors work with industry partners and the full CDA application submitted to SGSAH by lead academic supervisor between 1-14 February 2021. A student may be attached at this stage or recruited if the application has been selected for funding. (Student recruitment is managed by the CDA partnership.) All nominated doctoral candidates will be reviewed by the SGSAH Executive to ensure they meet the eligibility criteria before funding is awarded.
Applications for SGSAH Collaborative Doctoral Awards 2022 will be submitted through Survey Monkey Apply.
This online system will accept project applications from lead supervisors between Tuesday 1 February 2022 (9am GMT) to Monday 14 February 2022 (12noon GMT).
At this time, only project proposals can be submitted. This will include the following fields of detail:
Partnership Information
Partner Organisation
Project Title
Research Summary
Research Proposal
Benefit to Partner
Benefit to HEI
Supervision Arrangements
Supervisory Expertise
Project Management
Partnership Agreement
Ethics
Student Recruitment
Confirmation of supervisory requirements
Digital Signature of Lead Supervisor
All project proposals will be reviewed by a panel selected from across academic and industry sectors. Selected projects will then be invited to recruit and nominate a suitably qualified doctoral candidate. Lead supervisors will invite candidates to collaborate on the existing proposal candidates will complete the following fields of information:
Name
Email
Permanent Address
Correspondence Address if Different
Residence Eligibility
PhD Programme of Study
Qualifications
Qualifications Pending
Non-standard and/ or unclassified qualifications
Relevant professional experience
Preparedness for proposed doctoral project
Training needs and SGSAH DTP
SGSAH requirements
This second stage must be completed by June 2022 upon which the SGSAH Executive Committee will review all nominated candidates to confirm that they meet the required criteria.
Timetable
| | |
| --- | --- |
| Full applications submitted (student may be attached at this stage or after studentship is funded). Application system open between 1-14 Feb 2022. | 14 Feb 2022 |
| Successful partnerships informed | May 2022 |
| Studentship opportunity advertised (if no student attached) | May/June 2022 |
| Student profiles to SGSAH for panel review (if no student attached at point of application) and students appointed to projects | June 2022 |
| Studentships begin | October 2022 |