External Partners
The ambition of SGSAH is to develop doctoral researchers who not only recognise the value of arts and humanities research to Scotland and beyond, but who possess the skills and aspiration to apply that research in addressing issues of social and cultural priority. To this end, we work with our core partners and an ever-growing number of supporters in the greater arts, cultural, creative, public, heritage and third sectors to plan and deliver unique training and skills development opportunities. From hosting interns & artists in residence to collaborating on delivering skills training and shaping strategy through membership of our Industry Advisory Boards, there are many ways our external partners play an intrinsic role in delivering our doctoral training programme.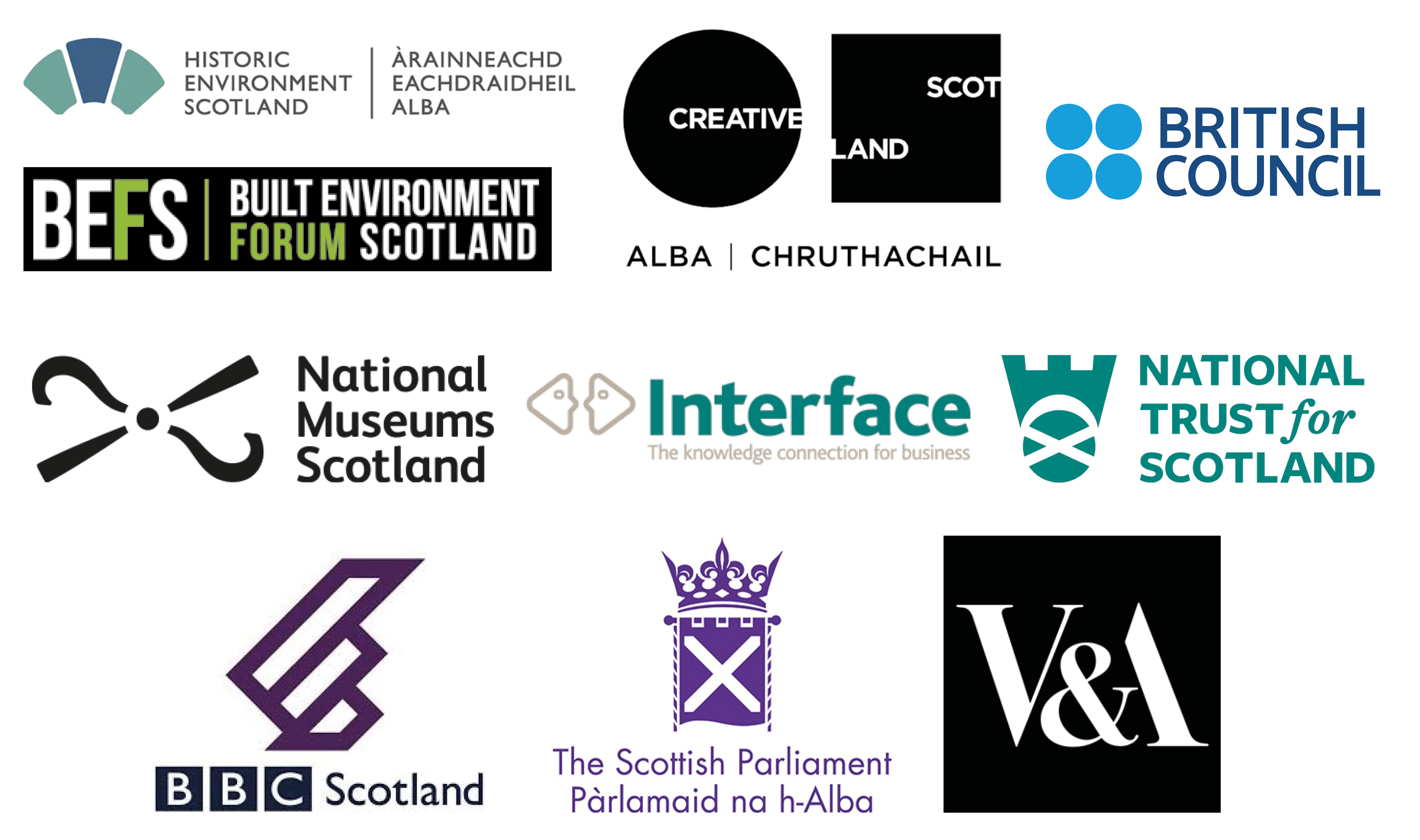 Other Organisations we have worked with
SGSAH works with organisations of all sizes - including large national companies, the public sector and small and medium enterprises. Our partners span the key areas in Scottish arts and humanities and even further afield. Find below an alphabetically organised list of other organisations we have worked with and/or continue to work with.
A – C
Africa in Motion
Alchemy Film & Arts
American Craft Council
An Comunn Gàidhealach
Aproxima Arts
Archaeology Scotland
ATLAS Arts
Audit Scotland
BASCA
Biome Collective
Brilliant club
Carnegie Trust for the Universities of Scotland
Centre for Contemporary Arts
Collective Gallery
Company of Wolves
Cove Park
Craft Scotland
Creative Carbon Scotland
Creative Lives
D – H
Defence Science & Technology Laboratory
Deveron Projects
Document: International Human Rights Documentary Film Festival
Dovecot Studios
Dundee Central Library
Dundee Contemporary Arts
Dundee Heritage Trust
Dundee Science Centre
Edinburgh Art Festival
Edinburgh Festival Fringe Society
Edinburgh International TV Festival
Education Scotland
Edinburgh Sculpture Workshop
Eventit
Four Acres Charitable Trust
Future Cities Catapult
Glasgow Building Preservation Trust
Glasgow City Archives
Glasgow Life
Glasgow Women's Library
Health and Social Care Alliance Scotland
I – O
Imaginate
Incalcando Ltd
Innerpeffray Library
Institute of Chartered Accountants for England & Wales
Inveraray Castle and Argyll Estates
John Butler, Freelance Artist
John Muir Trust
Light Up Learning
Museums & Galleries Edinburgh
Music Managers Forum
NASA
National Library of Scotland
National Records of Scotland
National Trust for Scotland
NCSG
NHS Scotland
North East of North (NEoN)
North Edinburgh Arts
Open Past
Orkney Museum
P – S
Paisley Museum
Pearlfisher
Qosmo
Rape Crisis Glasgow
Renfrewshire Disability Resource Centre
Renfrewshire Leisure
Royal Botanic Garden
Royal College of Physicians and Surgeons of Glasgow
Royal Scottish National Orchestra
Royal Society of Edinburgh
RSPB
SAHA
SCILT Scotland's National Centre for Languages
Scotland + Venice
Scottish Book Trust
Scottish Football Museum
Scottish Maritime Museum
Scottish Mental Health Foundation
Scottish Music Industry Association
Scottish Women's Aid
Shetland Arts Development Agency
Shetland Museums Archive
SignVideo & Police Scotland
Somewhere EDI Community Interest Company
sound@Woodend Barn
Stop Climate Chaos Scotland
Survey of London
T – Z
The Alasdair Gray Archive
The Bodleian Libraries
The Bothy Project
The Hunterian
The Orkney Museum
The Scottish Parliament
The Stove
The Unicorn Preservation Society
The Watt Institution
The Wilhelmina Barns-Graham Trust
The Work Room
Tobar an Dualchais
TRACS
Twentieth Century Society
Unesco
University of Edinburgh
University of Edinburgh Museums
University of Glasgow
Urras Oighreachd Ghabhsainn
ViD art|science
Voluntary Arts Scotland
Watt Institution
Xcentuate
YTAS