SGSAH Appoints EDI Lead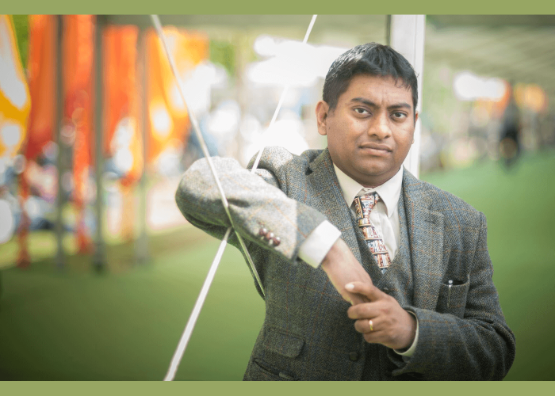 The Scottish Graduate School for Arts & Humanities (SGSAH) is delighted to announce the appointment of its new Equality, diversity and inclusion (EDI) Lead, Dr Anindya Raychaudhuri.
Dr Raychaudhuri, who is Senior Lecturer in English at the University of St Andrews, took up the EDI role yesterday (Monday 3 April 2023). He is the author of two monographs, Homemaking: Radical Nostalgia and the Construction of a South Asian Diaspora and Narrating South Asian Partition: Oral History, Literature, Cinema. In 2016, he was named one of the BBC/AHRC New Generation Thinkers. More recently, he has been Director of Postgraduate Research in the School of English. Dr Raychaudhuri has also been involved in various EDI initiatives, including working on Athena Swan and Race Equality Charter applications, sitting on the University's Postgraduate Widening Participation Working Group and serving as Equalities Officer for the St Andrews branch of the University & College Union.
Raychaudhuri said of his appointment: "I am delighted and honoured to be taking on the role of EDI Lead at SGSAH. I am excited by SGSAH's institutional commitment to EDI, in order to work towards ensuring that everyone has an equal opportunity to thrive. I greatly look forward to working with everyone at SGSAH, our partners, and former, current and future researchers to build towards this goal. We have a range of exciting new initiatives planned so watch this space!"
As EDI Lead, Raychaudhuri will be responsible for delivering the planned activity around EDI, including via the AHRC DTP2 EDI grant, working with the SGSAH Directorate, staff team, and governance structures. This work will also provide formative development for the AHRC DTP recommissioning in late 2023 and 24.
Nicola Torch, SGSAH EDI Committee representative and Doctoral Researcher at the University of Stirling, said: "We are thrilled that Dr Anindya Raychaudhuri has been appointed as EDI Lead at the Scottish Graduate School for Arts & Humanities. Dr Raychaudhuri brings a wealth of knowledge and experience that will be of great benefit to the SGSAH community, and we look forward to working with him to drive forward SGSAH's commitment to making doctoral provisions across Scotland and beyond more equal, diverse and inclusive."
According to Professor Claire Squires, who has been Director of SGSAH since January 2020, "Anindya makes an excellent addition to the team and I am delighted to have the opportunity to work with him over the next two years, in order to sustain and grow activity around EDI within the organisation and with our member HEIs and other partners.'
SGSAH's Board has also extended Professor Squires' secondment contract by two years, so her term as Director will now end in December 2025.
The EDI Lead is a new role within SGSAH, co-funded by the AHRC and SGSAH's member HEIs (Higher Education Institutes). SGSAH is committed to equality, diversity and inclusion which is embedded in our core values and aligned with the AHRC's vision and mission. The AHRC's EDI Action Plan 2022-25 is available here.
---
First published: 3 April 2023