British Council and SGSAH award 13 EARTH Scholarships to address the climate emergency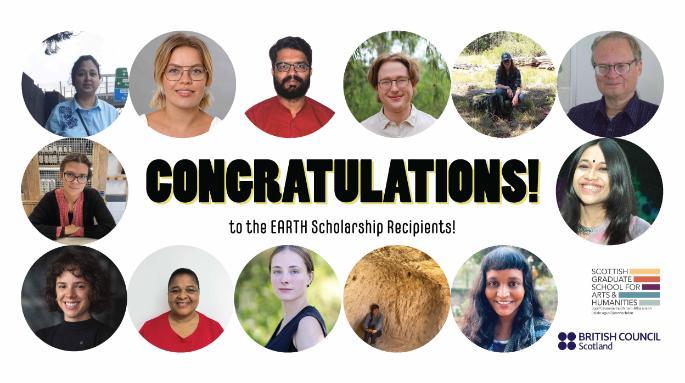 British Council Scotland and the Scottish Graduate School for Arts and Humanities (SGSAH) have awarded 13 EARTH Scholarships to early-career researchers from 11 countries including India, Pakistan, South Africa, the Netherlands, and the United States.
Starting in April, the scholars will undertake in-person and hybrid exchanges for up to 3-months, in environmental arts and humanities.
During the exchanges, recipients will come together alongside Scotland-based PhD scholars to network, collaborate, and build connections.
British Council Scotland and the Scottish Graduate School for Arts and Humanities have announced the award of 13 international Scholarships to early-career researchers.
Developed in partnership between SGSAH and British Council Scotland, the EARTH Scholarships have been designed to address the climate emergency from a new angle, encouraging global and interdisciplinary collaborations with a focus on environmental sustainability themes and the interventions of the arts and humanities.
Projects range from exploring eco-archaeology through studying myth and folklore, marine governance and performance art, to the history of social movements and climate justice. The scholars will work at 15 universities across Scotland in three clusters, which will offer research placements, training and opportunities to connect with Scotland-based PhD researchers, as well as industry and community partners.
SGSAH's Director, Professor Claire Squires commented:
"We are really looking forward to welcoming the scholars to Scotland in a couple of months' time. Through a vigorous, global selection process we've found an amazing cohort from across the world, all working on projects that are raising awareness and challenging perceptions about environmental issues and the interface between art and science. I've no doubt that their projects and work with universities in our network will help spark new ideas and forge new connections across higher education institutions around the world. We're also delighted that the scholars will be joining with 13 Scotland-based PhD researchers for an exciting cohort development programme in April."
Lucy Young Country Director, British Council Scotland added;
"It's fantastic to see the EARTH Scholarships awarded and we are excited to help host these hybrid exchanges, which will bring the scholars together with the unique expertise of SGSAH and their excellent network. Our work through the Climate Connection has proven that building global links between higher education institutions, and scholars can be a powerful way to identify new approaches to address the climate emergency."
Also speaking about the opportunity were two of the EARTH Scholars who will be travelling to Scotland in April, to conduct research at the Edinburgh Futures Institute and the University of the Highlands and Islands:
Camellia Biswas is a doctoral researcher in Humanities and Social Sciences at the Indian Institute of Technology in Gandhinagar, India. During her EARTH scholarship exchange she will visit and work in collaboration with the University of the Highlands & Islands (UHI).
Speaking about the scholarship, she said:
"I discovered this scholarship through the British Council newsletter, and I think that the project will help my development as an early career research fellow. I can't wait to get started on my project which is multi-disciplinary. I'll be using concepts across GIS, zooarchaeology, history, and political-ecology, along with local engagement, to study seals, humans, and conservation politics, - all through the lens of deep time and the implications for climate change.
"I'm really looking forward to coming to Scotland and building relationships with other PhD scholars across environmental arts and humanities, the programme will enrich my understanding of STEAM education in Scotland, and I hope to bring some of these learnings to apply in India".
Meanwhile, Marianna Fernandes Cavadini is a first-year doctoral researcher based at the Geneva Graduate Institute of International and Development Studies in Switzerland. During her time in Scotland, Marianna will be based at the Edinburgh Futures Institute (EFI), University of Edinburgh. Her project will analyse the cultural and environmental implications of using digital technologies in mining sites to mitigate climate change.
She said: "I applied for the EARTH scholarship because of its focus on the Environmental Humanities in Scotland. This is a great opportunity to study with the Edinburgh Futures Institute, which is a knowledge hub for people like me who are working on issues at the intersection of environmental studies and digital technology. Beyond contributing to my ongoing Ph.D. work on the development of technologies in the mining industry, I am confident this scholarship will promote enriching dialogues and collaborations between me, my mentor, and other Scotland-based scholars".
Read more about all the scholars and their EARTH Scholarship projects.
Read more about the EARTH Scholarships.
Notes to Editor
Notes to Editor
About the British Council
The British Council is the UK's international organisation for cultural relations and educational opportunities. We support peace and prosperity by building connections, understanding and trust between people in the UK and countries worldwide. We work with people in over 200 countries and territories and are on the ground in more than 100 countries. In 2020–21 we connected with 67 million people directly and with 745 million people overall.
About The Scottish Graduate School for Arts and Humanities
The Scottish Graduate School for Arts and Humanities (SGSAH) is the world's first national graduate school in the Arts and Humanities. Its mission is to work in partnership to offer unparalleled training and support to doctoral researchers in Scotland. Its HEI members cover the whole of Scotland, from the Highlands and Islands to the Scottish Borders. Working with supporters in the arts, culture, creative and heritage sectors, SGSAH supports positive connections and productive networks locally, regionally and globally to provide outstanding opportunities for doctoral researchers in Scotland.
SGSAH is home to the AHRC Doctoral Training Partnership for Scotland. SGSAH is funded by the Arts & Humanities Research Council (AHRC) and the Scottish Funding Council as well as member HEIs.


This press release was originally published on the British Council Scotland website on Monday 13 February 2023.
---
First published: 14 February 2023