Meet our 2023 EARTH Scholars
The British Council Scotland SGSAH EARTH Scholarships is a programme run by SGSAH with funding from the British Council to enable international research collaborations between PhD and Early Career Researchers and Scottish HEIs and Scotland-based academic mentors, and external organisations, thematically focused on environmental arts and humanities and their interdisciplinary connections. Our thirteen successful applicants based outside the UK will come to Scotland to undertake in-person and hybrid exchanges for up to 3 months in 2023. Meet our 2023 EARTH Scholars below. Click '+' to expand each accordion to find out more about them and their research.
Uzma Aleem | University of Strathclyde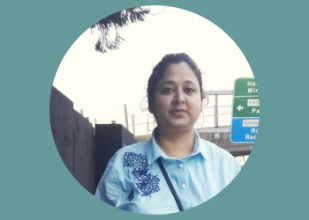 Uzma Aleem, originally from Pakistan, is a third-year doctoral researcher at Western Sydney University, Australia. Uzma's research interests lie in environmental journalism, media and communication, and plastic pollution management.
Young people's perceptions of media coverage of plastic pollution in Scotland and Australia: Finding solutions through online entertainment and gamification
During her EARTH Scholarship exchange, Uzma will be based at the University of Strathclyde, exploring young people's perceptions of media coverage of plastic pollution in Scotland and Australia. These insights will be used to address plastic pollution solutions through the use of online entertainment and gamification. The project aims to support knowledge exchange across Europe and Oceania by proposing a comparative awareness creation model regarding plastic pollution between Scotland and Australia, using the Scottish framework of climate change induced by plastic waste as a spring-board.
Sonja Åman | University of Aberdeen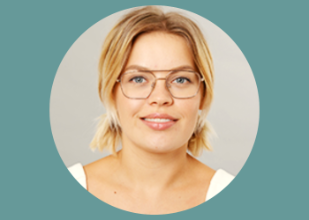 Originally from Finland, Sonja Åman is a doctoral researcher in environmental humanities at the University of Oslo, Norway. She submitted her PhD thesis, which focuses on the international politics of Indigenous whaling, for final evaluation at the end of 2022 and is currently completing an additional year of teaching at the Oslo School of Environmental Humanities.
The impact of changing oceans on space-making practices
During her EARTH Scholarship exchange, Sonja will visit and work in collaboration with the Department of Anthropology at the University of Aberdeen, where she will conduct comparative research on place-making practices and marine governance in North-East Scotland and northern Norway. Using migratory marine mammals (whales and dolphins) and the tourism industry built around them as a starting point, she will examine how and by whom marine spaces are negotiated in these two regions. This research will provide insight into how cultural perceptions of the ocean impact its governance and how this can be expected to change with the rapid changes in marine ecosystems.
Camellia Biswas | University of the Highlands & Islands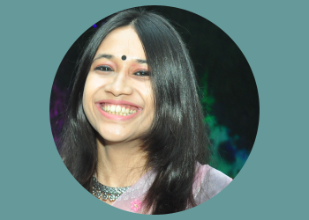 Camellia Biswas is a doctoral researcher in Humanities and Social Sciences at the Indian Institute of Technology (IIT) in Gandhinagar, India. She specialises in ecological anthropology, human-animal studies, disaster studies and participatory research methodologies. Her PhD thesis focuses on mapping the dynamics of human and non-human interactions in the Indian Sundarbans, under the larger discourse of the climate disaster. She is an Inlaks-RS conservation Grant awardee, a Research Associate for Global Research Network (UK) and was a British Council's Women Leadership Fellow in 2022. Camellia has been published in several popular media forums, magazines, and academic journals. See her Academia.edu profile for further reference.
Mapping dynamics of eco-cultural evolution of human-seal relations in the Scottish Islands
During her EARTH Scholarship exchange, Camellia will visit and work in collaboration with the University of the Highlands & Islands (UHI) to examine the ecological-cultural evolution of human-seal relationships in the Northern Scottish Islands across place and time to comprehend climate emergency and conservation action. This interdisciplinary and community-integrated project will study visual narratives of storytelling, folktales, and myths embedded in historical and zooarchaeological records. Camellia aims to use technical software and concepts from zooarchaeology, cultural studies and political ecology to create a storytelling digital arena where secondary and primary data from fieldwork will be analysed and exhibited digitally.
Aadita Chaudhury | University of Edinburgh
Aadita Chaudhury is a final-year PhD candidate in the Graduate Program in Science and Technology Studies (STS) at York University, Canada. With a background spanning environmental studies, STS, political ecology, cultural studies and interdisciplinary arts practice, Aadita explores how scientific inquiry and the arts can configure nature as a site for embodied experiential knowledges, and future world-making. She has been part of research projects and networks at the intersection of arts, ecology, technology and transnational social and environmental justice in Canada, the United States, the United Kingdom, Italy and India.
Considering the embodiment of time as method in environmental humanities
During her EARTH Scholarship exchange, Aadita will investigate how the embodied individual and collective experiences of time and changing seasons help environmental researchers better attune to local specificities of the climate crisis. Based at the Edinburgh College of Art of the University of Edinburgh, Aadita will use multispecies ethnographic methods to explore of local ecologies, literary and performing arts, myths and stories, along with body-centred practices to contextualize Scottish experiences of nature in Ravelston Woods, Arthur's Seat and Royal Botanic Garden Edinburgh. Through direct immersion into these cultural and ecological landscapes, she will explore methodologies that show how situating the body as part of ecosystems can transform environmental imaginaries, ethics, and praxis.
Megan Denis | University of Glasgow
Megan Denis is in her second year of doctoral research at the University of Montana, USA. Her PhD project, entitled 'It Takes Two to Tango: Cooperation in the Archaeological Record', examines the changing use of different mechanisms of cooperation in Housepit 54 of British Columbia through the spatial patterns of artifacts and distribution of wealth across the housepit's fifteen floors.
Rannoch Moor during the Little Ice Age
During her EARTH Scholarship exchange, Megan will be studying at the University of Glasgow, participating in Professor Whitehouse's ongoing wetlands research, exploring Rannoch Moor's environmental history to understand how the wider landscape has been transformed by human activity and climate change. This research entails the study of pollen grains and other microfossils from wetlands to understand the history of a past landscape over the last 1,000 years and how humans may have impacted it. The effects previous humans have had on the landscape may help illuminate the direction humans must take to ensure the health of the environment and the planet's future.
Mark Dunick | University of Stirling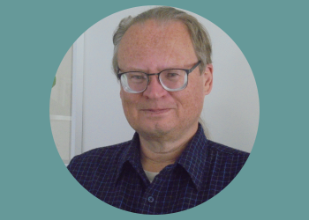 Mark Dunick earned his PhD in History in 2022 from Victoria University of Wellington, New Zealand. His PhD research examined continental European assisted immigrants in 1870s New Zealand. He has also written on labour history and social movements and has a background in social justice campaigning in Aotearoa New Zealand.
Organising and movement building: Lessons from the 1980s British Animal Rights Movement
During his EARTH Scholarship exchange, Mark will be based in the Centre for Environment, Heritage and Policy (CEHP) at the University of Stirling. His project aims to provide insight into the internal life of historical social movements and how this can inform the climate justice movement of today. His project is centred on the British Animal Liberation Leagues, which carried out high profile campaigns in the 1980s. This research will be among the first academic inquiries into the history of the modern British animal rights movement. In turn, it will demonstrate how historians of social movements can contribute to discussions around climate justice.
Marianna Fernandes Cavadini | University of Edinburgh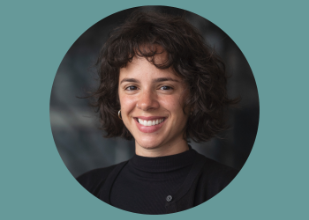 Marianna Fernandes Cavadini is a first-year doctoral researcher based at the Geneva Graduate Institute of International and Development Studies, Switzerland. She is also affiliated with the Centre for International Development Studies (CIES). Prior to her PhD, she worked for civil society organizations on topics such as extractive industries, energy transition, digital economy, and disasters.
The use of digital technologies in mining to mitigate climate change
During her EARTH Scholarship exchange, Marianna will be based at the Edinburgh Futures Institute (EFI), University of Edinburgh. Her project will analyse the cultural and environmental implications of using digital technologies in mining sites to mitigate climate change. Technologies translating physical environments into digital data are increasingly used to reduce the mining industry's carbon footprint. The project will reflect on the challenges and opportunities presented by data-driven technologies to promote sustainability in the mining sector.
Buhle Francis | University of Strathclyde
Buhle Francis, is a PhD candidate at Rhodes University, South Africa, and a researcher within the One Ocean Hub Project, where she is pioneering collaborative scholar activist research within Ocean governance. She is particularly interested in justice within the gender and ocean livelihoods nexus and inclusivity in ocean decision making.
Grandmothers of the sea - protecting women's rights through art and fair benefit-sharing from seaweed harvesting in the face of climate change
During her EARTH Scholarship exchange, Buhle will be undertaking a collaborative analysis project with the One Ocean Hub at the University of Strathclyde. The project aims to contribute to protecting the human rights of women who are currently trapped in a 'wage-slavery' system of seaweed harvesting for a large corporate cosmetics company in the Eastern Cape of South Africa. This project will expand on Buhle's post-doctoral research on the nexus between climate change, livelihoods and governance by integrating legal research on human rights and the ocean, as well as legal and art-based empowerment approaches.
Nicholas Herriot | University of Strathclyde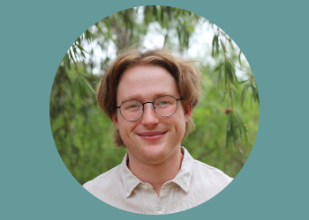 Nicholas Herriot is a second-year doctoral researcher in the Department of Historical and Classical Studies at the University of Adelaide, Australia, where he studies linkages between the environment and labour movements since the 1970s. His research interests lie broadly in the field of Australian history, with a particular focus on labour history, social movements, political radicalism and oral history. Nicholas has been an active participant in local anti-nuclear and climate justice campaigns in South Australia.
The history of Scottish working-class environmentalism
During his EARTH Scholarship exchange, Nicholas will visit and work in collaboration with the University of Strathclyde to research the often fraught relationship between workers and environmentalists which lies at the heart of Scotland and Australia's recent past and contested futures. This collaborative research project will address current and future environmental challenges, including achieving a just transition, through an exploration of Scottish working-class environmentalism. Located at the intersection of environmental and labour studies, this research hopes to illuminate how working people and their communities have been impacted by and responded to environmental injustice. Greater understanding of these issues may help activists and scholars alike find greater common ground in future.
Aster Hoving | University of Glasgow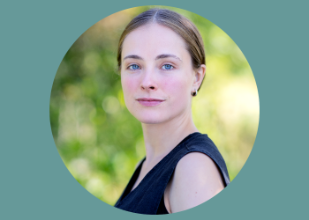 Aster Hoving, originally from the Netherlands, is a doctoral researcher in Environmental Humanities with the Greenhouse Center for Environmental Humanities at the University of Stavanger, Norway. She is currently in the second year of her PhD research, in which she compares how energy companies, scientists, and artists engage with the ocean's energies. Previously, Aster studied at Utrecht University, the University of Amsterdam, the University of California, Berkeley, and New York University. Her master's thesis was awarded the Faculty of Humanities UvA Thesis Prize 2021. Aster's published work can be found on the website Environmental History Now (2021) and in the print collection Solarities (forthcoming 2023).
Ocean waves in art, industry, and science
During her EARTH Scholarship exchange, Aster will be based at the University of Glasgow to investigate waves as aesthetic, economic, and scientific resources. Her project is interested in how the ephemeral nature of waves is mediated in ecological and technological objects, particularly seashells and wave energy converters. As an island with extensive coastlines, Scotland's rich ocean cultures are foundational to her project, which includes plenty of on-site fieldwork. Through this fieldwork across Scotland, at an artistic research hub, a marine energy centre, and a scientific museum, Aster aims to make interdisciplinary and methodological advances in the environmental arts and humanities.
Ajmal Rasaq | University of Glasgow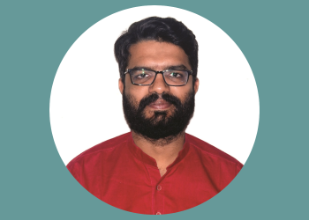 Ajmal S. Rasaq is a fifth-year doctoral candidate in the Department of Humanities and Social Sciences at the Indian Institute of Technology (IIT) in Guwahati, India. He earned his bachelor's degree in political science with first rank from Kerala's St. Thomas College Pala, a part of Mahatma Gandhi University, and went on to complete his masters and MPhil at the university of Hyderabad and the Jawaharlal Nehru University respectively. Furthermore, he was awarded a Junior Research Fellowship by the University Grants Commission for pursuing his postgraduate research degree.
Environmental humanities and monsoon lives
During his EARTH Scholarship exchange, Ajmal will be based at the School of Geographical and Earth Sciences at the University of Glasgow. His project will explore how climate change has shifted the relationships between landowners and agricultural labour in the paddy fields of Chellanam, a coastal suburb of Cochin, Kerala, India. The project also looks to analyse how monsoon uncertainties exacerbate the socio-economic vulnerabilities of Pulayas, the village's most politically, culturally, and economically marginalised caste, and in what new ways their resistance is organised. By providing a grounded understanding of climate change in Chellanam through an ethnography of the monsoon geographies, Ajmal's project hopes to shed light on the effectiveness of climate action policies and promote the role of environmental humanities in addressing climate emergencies.
Deborah Schrijvers | University of Edinburgh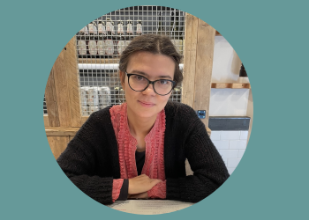 Deborah Schrijvers, originally from the Netherlands, is an Ad Astra doctoral student in the School of English, Drama and Film at University College Dublin. For her PhD project, she researches extinction narratives with an emphasis on gender, race and decolonisation through analyses of contemporary and transnational video installations and experimental film. She has just started the third year of her PhD under the supervision of Dr Hannah Boast. Additionally, Deborah is a Research Assistant for the University College of Dublin's Environmental Humanities strand.
Viewing with the Nonhuman: Time, texture and extinction in Carlos Casas' Cemetery (2019)
During her EARTH Scholarship exchange, Deborah will be based at the University of Edinburgh under supervision of Dr Michelle Bastian. Animal extinction is often registered in popular media as a product of the homogeneous anthropos in 'Anthropocene' and remedied through breeding schemes or scientific promises such as de-extinction projects. Deborah's project intervenes in these conversations by highlighting the sociopolitical dimensions of extinction, specifically the roles of gender and race. Deborah aims to write a chapter of her thesis on the role of time in contemporary extinction narratives. The chapter will focus on the experimental film Cemetery (2019) by Spanish filmmaker Carlos Casas. Deborah's theoretical framework consists of an interdisciplinary approach to art, informed by extinction studies, animal studies, film studies, critical theory, critical race theory and queer theory. She hopes that the exchange opportunity will enable future collaborations between University College Dublin and the University of Edinburgh, and their city's natural history museums.
Rita Valencia | University of Glasgow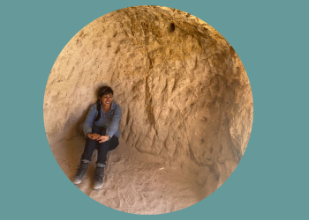 Rita Valencia is a post-doctoral researcher at Centro de Investigaciones y Estudios Superiores en Antropología Social (CIESAS), Mexico. With a transdisciplinary background she worked on Native Bees and Decolonial Ecology in her PhD and is currently researching and developing methodologies around ways of knowing and caring for the Soil Food Web.
Decolonial Methodologies to unveil and inspire: Indigenous agroecological practices and urban-rural connections
During her EARTH Scholarship exchange, Rita will be based in the School of Humanities at the University of Glasgow. Through an exploration of indigenous agroecological practices that produced abundance for millennia for humans and non-humans, the main objective of the project is to open our collective imagination to other ways of inhabiting and relating to nature within the context of our current systemic crisis. To achieve this, methodologies as well as pedagogical support materials will be developed for use in community workshops, which will take place in Mexico and in Glasgow, through the University of Glasgow and the Food Sovereignty Network. These workshops will demonstrate and disseminate amongst a wider audience that other ways of inhabiting our territories are not only possible but existed for millennia. The project is a continuation of Rita's PhD work developed in Mexico around Native Bees and Decolonial Ecology and it will strengthen her ongoing research on the Soil Food Web related to indigenous practices to sustain soil fertility and abundance.