Arthur C. Clarke Award goes to SGSAH alumna Harry Josephine Giles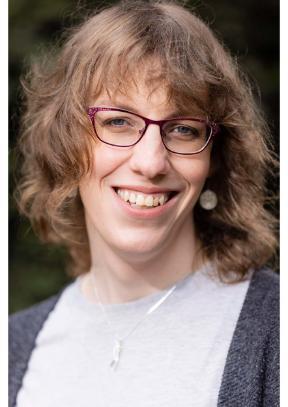 Author Portrait © Rich Dyson

Deep Wheel Orcadia, a scintillating novel written in the Orkney dialect by SGSAH alumna, wins science fiction book of the year.
Writer and performer Harry Josephine Giles has won the prestigious Arthur C. Clarke award 2022. Hailing from Orkney, Harry Josephine was a UK AHRC (SGSAH) funded PhD researcher in Creative Writing at the University of Stirling (completing her PhD in 2020).
Her PhD work in creative writing culminated in the publication in October 2021 of Deep Wheel Orcadia by Picador, one of the UK's most esteemed publishers. Giles' book is written in verse in the Orkney dialect, along with its "delightfully readable and witty" translation in English. The story follows Astrid and Darling. While Astrid is returning home from an art school on Mars, Darling is fleeing a life that never fit. The duo meet on Deep Wheel Orcadia – a distant space station struggling for survival as the pace of change threatens to leave the community behind.
Praising the winning book, Dr Andrew M Butler, Chair of Judges for the award, said:
"It is the sort of book that makes you rethink what science fiction can do and makes the reading experience feel strange in a new and thrilling way."
Previous winners of the Arthur C. Clarke award include Margaret Atwood, China Miéville and Richard K. Morgan, among others. Harry Josephine said it was "wonderful enough just to be on the shortlist" which saw names such as Kazuo Ishiguro, Arkady Martine and Courttia Newland. She added:
"It's an honour beyond any I'd imagined to have won the Arthur C. Clarke award. I worked on Deep Wheel Orcadia for seven years. The bulk of the writing was funded by an AHRC PhD studentship via SGSAH. Countless others helped the book along its way and I am so thankful again to everyone who shaped it. The book is told in the Orkney dialect and my great hope is that minority languages in the Islands gain better support from literary culture. I'm glad to be a small step in that direction."
The book comes in paperback, e-book, or audiobook and can be ordered here. Further details about Harry Josephine's work can be found at https://harryjosephine.com/.
---
First published: 3 November 2022