SGSAH December 2020 Newsletter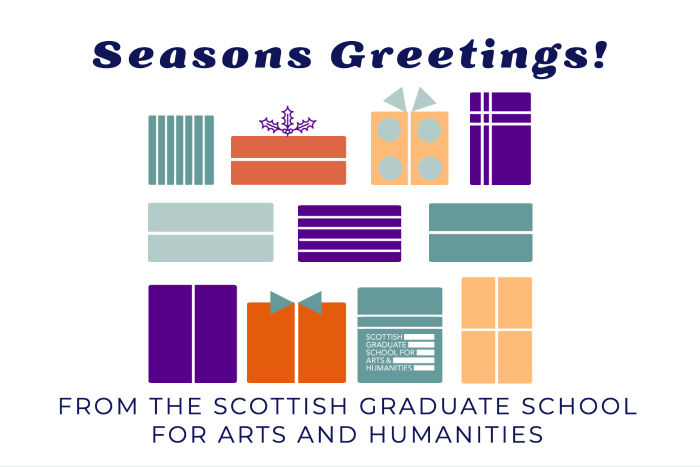 The Scottish Graduate School for Arts and Humanities (SGSAH) December 2020 Newsletter is now available. In this edition, SGSAH's Director, Claire Squires, writes a short seasonal message. Read it here. Or see below for a text-only version.
Sign up for our newsletters and receive SGSAH news, events and opportunities directly to your inbox.
–
Welcome to the December 2020 edition of SGSAH's monthly newsletter
In place of our normal information-packed newsletter and - as we hope - you all start to wind down your work at the end of the year - our December newsletter is a short message from SGSAH's Director. Claire writes:
Before writing this note, I looked back at the one I wrote in January of this year, as I started my time as Director of SGSAH. What a different world, and job, I was anticipating...
All of our lives have been thrown upside down, and we all know that'll be the case for some time yet, despite the positive news about vaccines. I'm acutely aware of how difficult this time has been for PhD researchers. I hope that you all have the chance to get some rest over the next couple of weeks.
The rest of this note is some heartfelt thanks:
First, to all our partners both within HEIs and outside, who have - despite all the challenges to their work - have created a great set of events and opportunities for our PhD researcher communities. Collaboration is a key value of SGSAH, and the generosity and commitment shown to us over this year, despite all the pressures you've been under, has enabled us to function.
Second, thanks to all the PhD researchers in arts & humanities in Scotland - I am very aware of the intensity of challenges you have faced: whether it be additional caring responsibilities, your own mental and physical health difficulties, the closure of archives, libraries, museums and fieldwork sites, and the narrowing of opportunities to travel and create new scholarly networks. And yet you've still kept engaged with us, providing us with a real sense of purpose to support you. Please do keep in touch with us and let us know what we can continue to do for you as we move into 2021 and emerge - sooner rather than later I hope - from the global pandemic.
Finally, I wanted to thank the SGSAH team, who have worked tirelessly this year, while never losing their sense of humour nor of what SGSAH is and will be in the future. Although we haven't managed to do everything we'd planned for 2020, I'm proud of what the team has delivered, and what we've got planned for 2021. I am also very much looking forward to when we can all get together in person in Lilybank Gardens - and at future SGSAH events, where we hope to see you all, too!
And on that, I'll end, but not before wishing you a restful seasonal break, a good Christmas to those of you who celebrate, and all my best for 2021.
Professor Claire Squires
Director, Scottish Graduate School for Arts & Humanities
---
First published: 17 December 2020