Practice Research Assembly
Published: 14 October 2020
Practice Research Assembly, led by Professor Maria Fusco, is a new programme of presentations and workshops supported by the Scottish Graduate School of Arts & Humanities, which engages with the distinctive qualities and demands of practice research at PhD-level.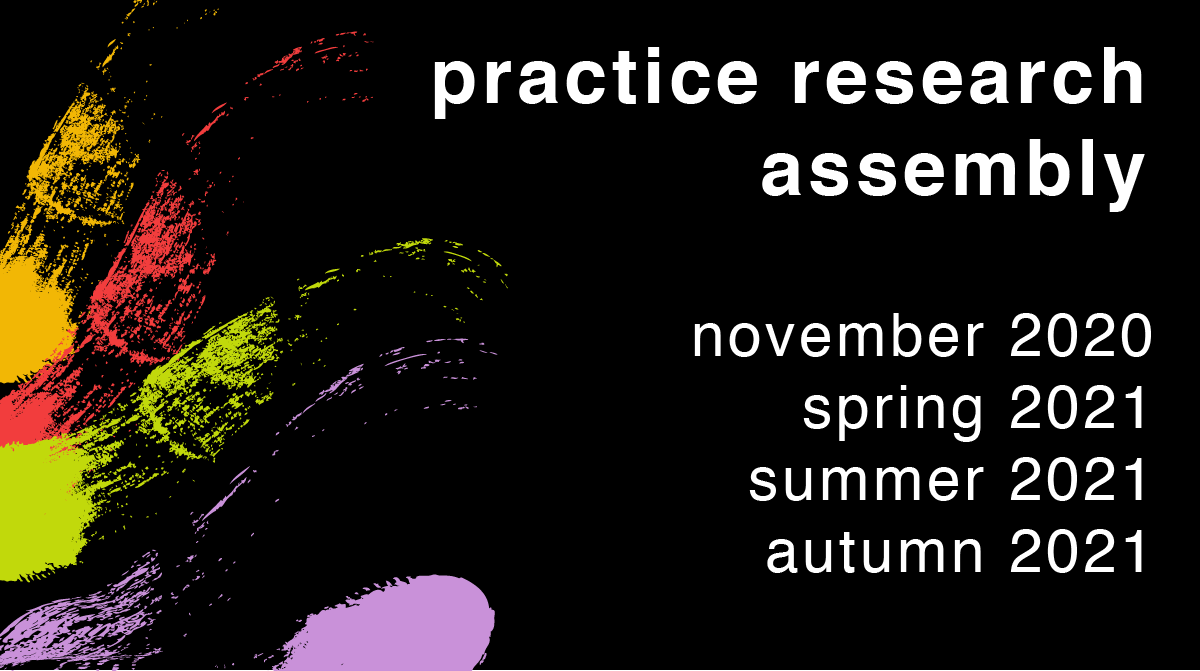 Practice Research Assembly, led by Professor Maria Fusco, is a new programme of presentations and workshops supported by the Scottish Graduate School of Arts & Humanities, which engages with the distinctive qualities and demands of practice research at PhD-level. The subject areas covered are expansive in nature as is our understanding of the types of practice research activities that take place across them, including: architecture; art; creative writing/poetry; craft/design and performance/music.
Four meetings are planned:
November 2020 What? How do I construct an application?
Spring 2021 What do we mean when we mean practice research?
Summer 2021 How am I doing? Challenging normative research methods
Autumn 2021 It's alive! The search for form
4 November 2020
This first session is primarily intended for those who are intending to apply for PhD study.
1pm: welcome and intro: Professor Maria Fusco, DJCAD, University of Dundee
1.10-1.50: Keynote the Q&A: Professor Joyce Yee, Northumbria University 'Researching Through Practice'
1.50-2.00: organise into breakout sessions
2.15-3.00: subject area breakout sessions. These are an opportunity to ask discipline specific questions and are intended to cover general questions about the nature of practice research PhDs in your proposed subject area, not to answer queries about individual institution's entry requirements/funding etc.
About the Presenters
Chair: Professor Maria Fusco
Maria Fusco is Professor of Interdisciplinary Writing at Duncan of Jordanstone College of Art and Design, University of Dundee and is lead academic for Practice Research Assembly. Her own practice research spans the registers of critical, fiction, performance and theoretical writing. www.mariafusco.net
Keynote "Researching Through Practice": Dr Joyce Yee
Joyce Yee is Professor of Social Innovation Design at the School of Design, Northumbria University, UK. Joyce's research explores how design is used to support, enable and drive change through the creation of innovative practices in organisations. She co-founded the Research Through Design (RTD) conference with Jayne Wallace as an experimental conference series for disseminating practice-based design research. joyce.yee@northumbria.ac.uk
Architecture Discipline Specialist: Professor Suzanne Ewing
Suzanne Ewing is an architect, educator, Professor of Architectural Criticism at the Edinburgh School of Architecture and Landscape Architecture (ESALA) at the University of Edinburgh. She co-founded ZONE architects in 2002 and co-leads the Voices of Experience Project [www.voices-architecture.com]. Publications include Architecture and Field/Work (2011), Visual Research Methods in Architecture (2020), Spaces of Tolerance (2021). Since 2013 she has been co-editor of the international journal Architecture and Culture. Suzanne.ewing@ed.ac.uk
Art Discipline Specialist: Dr Chris Freemantle
Chris Fremantle is Research Fellow and Lecturer at Gray's School of Art, Robert Gordon University, Aberdeen. He contributes to the MFA Art, Space and Nature at Edinburgh College of Art. He works as a producer of public art and design projects, a writer/editor in particular on ecoartscotland.net which he established in 2010, and artist. Chris@fremantle.org
Creative Writing Discipline Specialists: Dr Gail Low & Professor Kirsty Gunn
Kirsty Gunn is an award-winning, internationally published writer of fiction and essays. More can be found at her website: http://www.kirsty-gunn.com/
Gail Low researches publishing history, and is the founding editor or Dundee Review of the Arts (www.dura-dundee.org.uk).
Both Gail and Kirsty teach and write essays together; Imagined Spaces, their jointly-edited anthology of essays, will be published in early November with The Voyage Out Press.
Design Discipline Specialist: Professor Lynn-Sayers McHattie
Lynn-Sayers McHattie is Professor of Design Innovation at The Innovation School, GSA, where she is Programme Director: Research. She is a member of the AHRC Peer Review College and Co Director of the SGSAH Creative Economy Hub. She has four PhD completions and is currently supervising four PhD candidates. http://radar.gsa.ac.uk/profile/607
Film Discipline Specialist: Dr Sarah Neely
Sarah Neely is a Senior Lecturer in Film and Television Studies at the University of Glasgow. Her current research focuses on the areas of film history, memory and artists' moving image. She has supervised several film practice PhD projects across a wide range of areas, including film phenomenology, film poetry and portraiture. sarah.neely@glasgow.ac.uk
Theatre & Performance Discipline Specialist: Professor Minty Donald
Minty Donald (b. 1961 in Bellshill, Lanarkshire, Scotland) lives and works in Glasgow and Madrid. Minty Donald is an artist, researcher and Professor of Contemporary Performance Practice at the University of Glasgow. Her practice, which she regularly undertakes with artist, Nick Millar, explores interrelationships between humans and the other-than-human environments that they shape, build and inhabit; environments that also, reciprocally, mould and permeate them. Her practice takes multiple forms, determined by the context in which she is working, but has entailed performance, sculpture, participatory events, and writing. In her practice, she treats other-than-human matter as a collaborator, acknowledging its liveliness and agency, while also recognising the limits and inequalities of human/other-than-human collaboration. Her recent practice focuses on interrelationships between humans and rivers or other watercourses.
Interdisciplinary Specialist: Professor Maria Fusco
Maria Fusco is Professor of Interdisciplinary Writing at Duncan of Jordanstone College of Art and Design, University of Dundee and is lead academic for Practice Research Assembly. Her own practice research spans the registers of critical, fiction, performance and theoretical writing. www.mariafusco.net
Assisting with coordination: Katie Hart Potapoff
Katie Hart Potapoff is currently based at DJCAD, University of Dundee, researching her practice-based PhD, titled Inhabiting the Unknown. Her artistic practice and creative research considers philosophical questions about human entanglements with land and place. https://www.katiehartpotapoff.com/
---
First published: 14 October 2020