SGSAH Doctoral Researcher Nominated for Award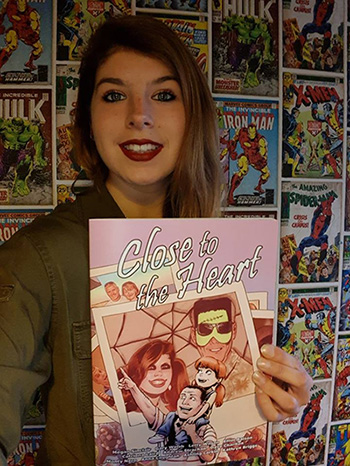 A SGSAH AHRC funded doctoral researcher has been nominated for an award by the British Heart Foundation following a deeply personal piece of work as part of her PhD.
The University of Dundee's Megan Sinclair researches healthcare information comics, taking aspects from the superhero genre and graphic medicine to improve public engagement and educational output in the sector.
Her comic is entitled "Close to the Heart" and is centered on the tragic death of Megan's father George. In telling George's story the comic aims to increase awareness of heart disease as well as exploring the bereavement and resilience which Megan and others like her have faced.
"I worked with a large creative team on the project." Megan told SGSAH "Over ten artists contributed to the comic as well as stories from my Mum, brother and sister. I also worked closely with the British Heart Foundation who have an information page within the comic."
Each artist gives a unique perspective on her father's story, with her family contributing memories of George. The result is a deeply poignant and incredibly unique look at his life in a form only a comic could provide.
The comic launched in November 2018 and such was the response that Megan was nominated for the British Heart Foundation "Heart Hero Award" which recognises the individuals who have done work to help the ongoing work to continue research and awareness into heart and circulatory disease.
"It is an incredible feeling to be nominated." Megan said. "My main aim was to use the comic to raise awareness for heart disease and to open up discussions that could help de-stigmatise the topic of death and bereavement. Comics are such an engaging and accessible medium and are extrememly useful in a healthcare context and I hope I can use the nomination as a platform to explore this further."
The award ceremony is to be held in London on the 20th of September. Megan's comic is available for free at https://discovery.dundee.ac.uk/en/publications/close-to-the-heart. Megan welcomes donations in support of The British Heart Foundation.
---
First published: 25 July 2019