SGSAH Shortlisted for Times Higher Education Award
Issued: Wed, 05 Sep 2018 11:26:00 BST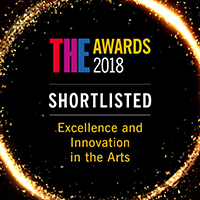 ‌The Scottish Graduate School for Arts & Humanities has been shortlisted in the 2018 Times Higher Education Awards for Excellence and Innovation in the Arts. This is the first time the Scottish Graduate School for Arts and Humanities has been shortlisted for a THE Award and follows being finalists at the 2018 Herald Higher Education Awards and being named Best Collaboration (Arts & Culture) at the 2017 University of Glasgow Knowledge Exchange & Public Engagement Awards.
The nomination relates to the SGSAH Doctoral Internship Programme which was first piloted in 2015 and seeks to create links between Arts and Humanities PhD researchers and partner organisations. With more than 50% of SGSAH graduates pursuing careers outside of academia, the programme opens up possible career opportunities as well as introducing potential employers to the benefits of working with a highly skilled doctoral graduate. These opportunities are fully funded and supported opportunities are open to all arts and humanities doctoral researchers within SGSAH, ensuring that researchers from a wide variety of backgrounds and funding types can get involved.
The winners of the Times Higher Education Awards will be announced at an event in London on Thursday 29 November. More than 1000 guests are expected to attend including politicians, senior sector figures and university staff from across the UK.
Our 2018/19 Internship and Artist Residency Programme is currently live with 30 projects across a wide variety of organisations. Click here for more information.
---